Video in-depth interviews (IDIs) and focus groups are a cornerstone of qualitative research, ideally suited for detailed discussions exploring a variety of topics. Common topics include new concepts and customer experiences. Hold video IDIs and focus groups with FC Live.
These interactive interviews with a skilled interviewer where members respond to answers and interviewers probe for detail (laddering) produce rich data, often with a deeper understanding of respondents' motivations, beliefs, and tendencies.
This article covers the Moderator's process. Please take a look at this article on the participant experience for more perspective on the participant's view when joining by smartphone or tablet.
Create, edit, and manage all of your FC Live options in the Activities > Live Events tab.
Create an FC Live Interview
Click on the + Create FC Live Event button to begin a new interview. It will open a new browser tab with your interview creation details and direct you to create a new interview.


Make sure your browser allows for pop-up windows from your Fuel Cycle page.

Personal Meeting Rooms that are created are always available for on-boarding and debriefs. Anything run in the room under a scheduled session will incur charges to you.

In the new tab, select Schedule Interview in the Overview tab.



Date & Time—When you want your session.
Respondent Location—Where are most of your respondents based?
Interview Name—This is for moderation purposes only and is referenced anywhere you manage FC Live.
Interview Duration—This displays to members so they are aware of the time commitment and can schedule accordingly. However, during the actual video session, the duration can be shorter or longer to allow flexibility based on how the conversation goes.
Interview Type—This is where you specify if you want to hold an IDI or Focus Group.

When you select IDI, it costs 1 credit.
Focus Groups can contain up to 8 member participants per session. It can support a total of 14 moderators and participants. Focus groups cost 2 credits.


Create as many interviews as you need in timeslots.

In your Events tab, complete the following fields:



Event Title—Same as your Interview Name.
Total Signups Allowed—This is the maximum number of members that can RSVP for a time slot. This allows you to over-recruit to ensure a full event. All members who sign-up will be able to join until the Total Signups Allowed are reached. Once the maximum group size has been met, the remaining members will receive a message that the room is full and can reserve another session if any are available.
Session Duration in Minutes—Have this reflect your Interview Duration.
Event Full Message—This message displays to members who have signed up, but the event is full or the event has been closed for new attendance. If additional future sessions are available, members can sign up for another session.

Add Times to the Schedule. Use this for all your "Date & Time" timeslots.



Sessions may only be added or deleted. They cannot be edited to change the date and time.

Members will see the list of available session times and can RSVP for a time slot. View and manage the session times from the Schedule tab.
Optionally, assign a session to a moderator. This is useful if you have multiple moderators running sessions so you can keep track of who is responsible for each session. If a session is assigned to a moderator, it doesn't prevent another moderator from running the live session. Members cannot see the assigned moderator.
For the location field, copy and use the Respondent Link.

Add Event to an Activity
You must create an activity and add it to an Event so members can see it.
After creating a session you can add an Event block in an activity description. The member will reserve the session time on the actual activity page wherever you place the Event block.
In the Event box, type in the name of an event and it will auto-populate. The Block Title must be filled in (for internal reference only).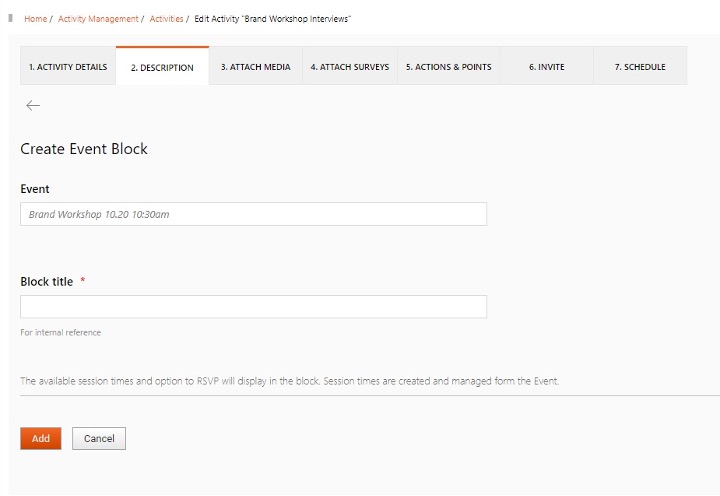 Live Event Session Management
Under the Live Events tab, all interviews are listed in one place, so that you can view their status, create new events, and edit or archive existing events.
From the Actions dropdown, export the RSVP list for each Live Event. This will generate an Excel file that lists all session times and show the status of each including the username and email for each reserved time.
Manually assign a user to an event session. A Live Event element can be added to multiple activities. To assign a session to a user, first select the activity and then type the member's username.
You cannot manually assign a user to an event session if they have reserved another session at the same time.
Live Events were developed in partnership with Discuss.io. Their comprehensive knowledge base articles provide troubleshooting and live event moderation points:
Join a session
In Live Events > Upcoming a moderator can Launch Chat to start their interview up to 1 hour before the scheduled start time.
The Actions dropdown will provide copy links for Observers and Participants.
Observers will be able to view and listen to an interview without being visible to the participant. Moderators can admit and remove observers. See more about Observers joining here.
You can also send out a Reminder Email from here. This is similar to the automated reminder emails that go out 1 hour before the scheduled time slot but can be sent out ad hoc.
Event Notifications
Members receive automated system email notifications to ensure users attend the event at the correct times. The following notifications are sent:
Event RSVP Confirmation—Sent to members after they select a time on the activity detail page. It includes the session date and time, the location, and a link to the activity detail page. You can customize the email messaging from Communication Center > System > Event RSVP Confirmation.
Event Manual Assignment—Sent to a member after being manually assigned by a moderator. It includes the session date and time, the location, and a link to the activity detail page. You can customize the email messaging from Communication Center > System > Event Manual Assignment.
Event Session Cancelled—Sent to a member after they cancel a session or if the moderator removes the member from the session. You can customize the email messaging from Communication Center > System > Event Cancelled.
Event Reminder—Sent to a member 24 hours and 60 minutes before the event start time. It includes the event start time details, the location, and a link to the activity detail page. You can customize the email messaging from Communication Center > System > Event Reminder.


If a reminder email is sent manually from the Upcoming tab, it will provide details of the Event.
Moderate an FC Live Session
To start a session...
Go to Activities > Live Events > Upcoming
Click the Launch Chat button to start the session. A new tab will open in the interview.
The moderator controls who are admitted from the waiting room. They can be admitted before the official start time of the interview.
Completed Sessions
After the session is over, you may find the session video in the Completed Sessions tab. In this section, you may...
View Reporting—open a new tab to perform the following:
Archive your event.